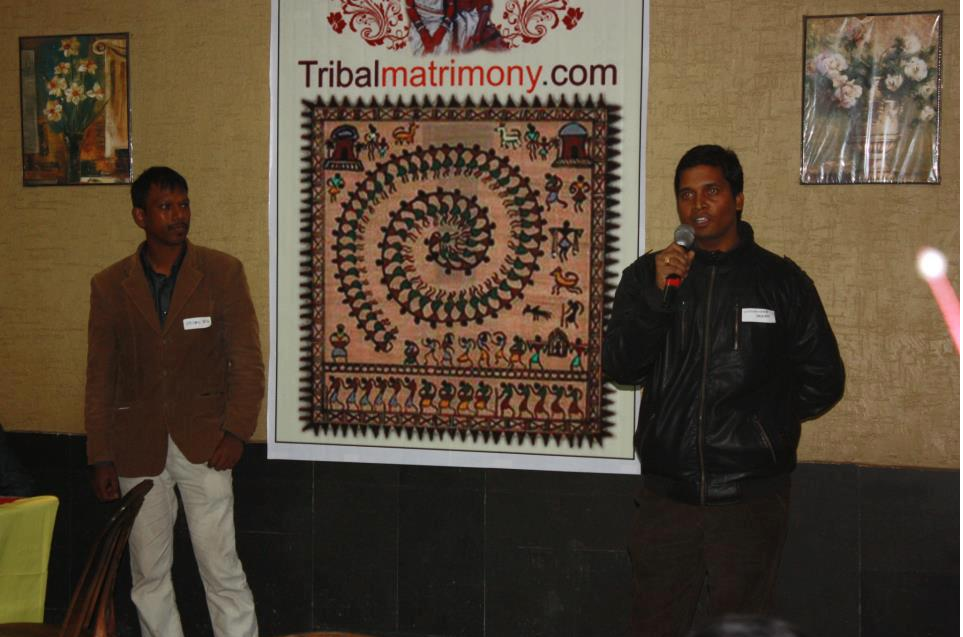 TribalMatrimony Dinner Night at XISS Ranchi- Sunday 30th, 2012
Wishing you a happy, prosperous & Peace New Year!

After launching the online www.TribalMatrimony.Com initiative, it was a remarkable day for us on Sunday 30th, 2012. With the support and tremendous dedication of Adivasi Development Network, we organized our much-awaited first on-the-spot event at XISS Ranchi on Sunday 30th, 2012. For Tribal Matrimony the moment was like a child's first step towards a long journey. Hope our initiative will go long way and fulfill the need and expectations of our tribal people.


We had welcomed a good number of candidates and their family members from different places like Ranchi, Kolkata, Simdega, Lohardaga, Gumla, Mumbai, Jamshedpur, Gadva, Delhi. They have shown great enthusiasm. During the interactive session, we got a lot of feedback and suggestions. We would shortly implement their valuable suggestions and feedback. We are always being thankful to them for their support and faith in our initiative. We have distributed the tribal matrimony profile directory to members.

We Adivasi people have been well known for inherent qualities of support & cooperation. But, the way of professionalism under the leadership of Mr. Ajit Roshan Tete, Mrs. Harshit Sosan Lakra, Ms. Rashmi Ekka, we have observed in the working culture of Adivasi Development Team Members/Volunteer, is commendable. Without their youthful energy and support, nothing could happen. The design part has been created by Mr. Robert. We would always be thankful to them for their innovative design and technical support.

We are thankful to Churches, Sarna-Samiti, and Colleges for their supports. The XISS management & Faculty members have shown great love and affection towards our initiatives. We would be always grateful for their enduring support and caring towards us. We are thankful especially to Dr. (Fr.) Alexius Ekka, Dr. (Fr.) Ranjit Pascal Toppo, Prof. Anmol Roshan Bodra, Prof. Mary Sheila Bodra, and Prof. Amar Eron Tigga for encouraging and motivating us.
31st December, 2021